The museum offers a unique and comprehensive resource for schools with learning opportunities in a wide range of curricular studies. Contact our Education Officer for more details or a copy of our Education Bulletin:
Bewdley Museum, Load Street, Bewdley, Worcester DY12 2AE
Tel: 01299 403573
Fax: 01299 405306


Heritage Education Trust - Sandford Award Winner July 2002
Won quinquennial awards 1992 and 1997
Rope Making
Make a rope using hand operated machinery from one of Bewdley's ropewalks, established in 1801. Pupils will also learn about the fibres used, the differences between a shroud and hawser laid rope and the historical usage of ropes in the local area.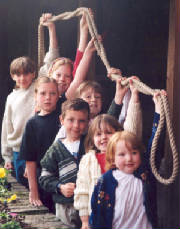 Clay Pipe Making
Children can watch a clay pipe making demonstration and learn the history behind the traditional techniques of moulding and fettling as well as the differences between shape, decoration and usage.
Cost: £1.50 includes Clay Pipe Making and Rope Making
Audio Visual Teaching Sessions
Choose from:
The Origins of Bewdley - early settlement
From Coracles to Steam Trains - transport developments through time
Woodland Crafts of the Wyre Forest
Discovering Bewdley's Buildings
Price £8.00 per session
Brass rubbing
Using replica brasses, groups can complete their own rubbings to produce a bold decorative art form with its origins in Medieval times.
Pre-booked sessions incorporating any of the sessions detailed above can be arranged to suit your requirements.
Resource materials - for use in your classroom
** New for 2006! Compare and Contrast **
This brilliant resource for use in either KS1/KS2 History or Design and Technology lessons consists of 2 newly developed loan boxes full of original domestic artefacts and their 21st century equivalents, plus an excellent set of related worksheets. Please ask for reservation details and charges.
Suitable for Key Stages 1, 2 and 3, a wide range of support materials is available to schools for either purchase or loan. These include a Teacher's Education Pack, information sheets and study packs. They can be used to complement a special activities session or a general visit. Information suitable for GCSE and A Level courses, as well as Further Education courses is available on request.
___________________________________________________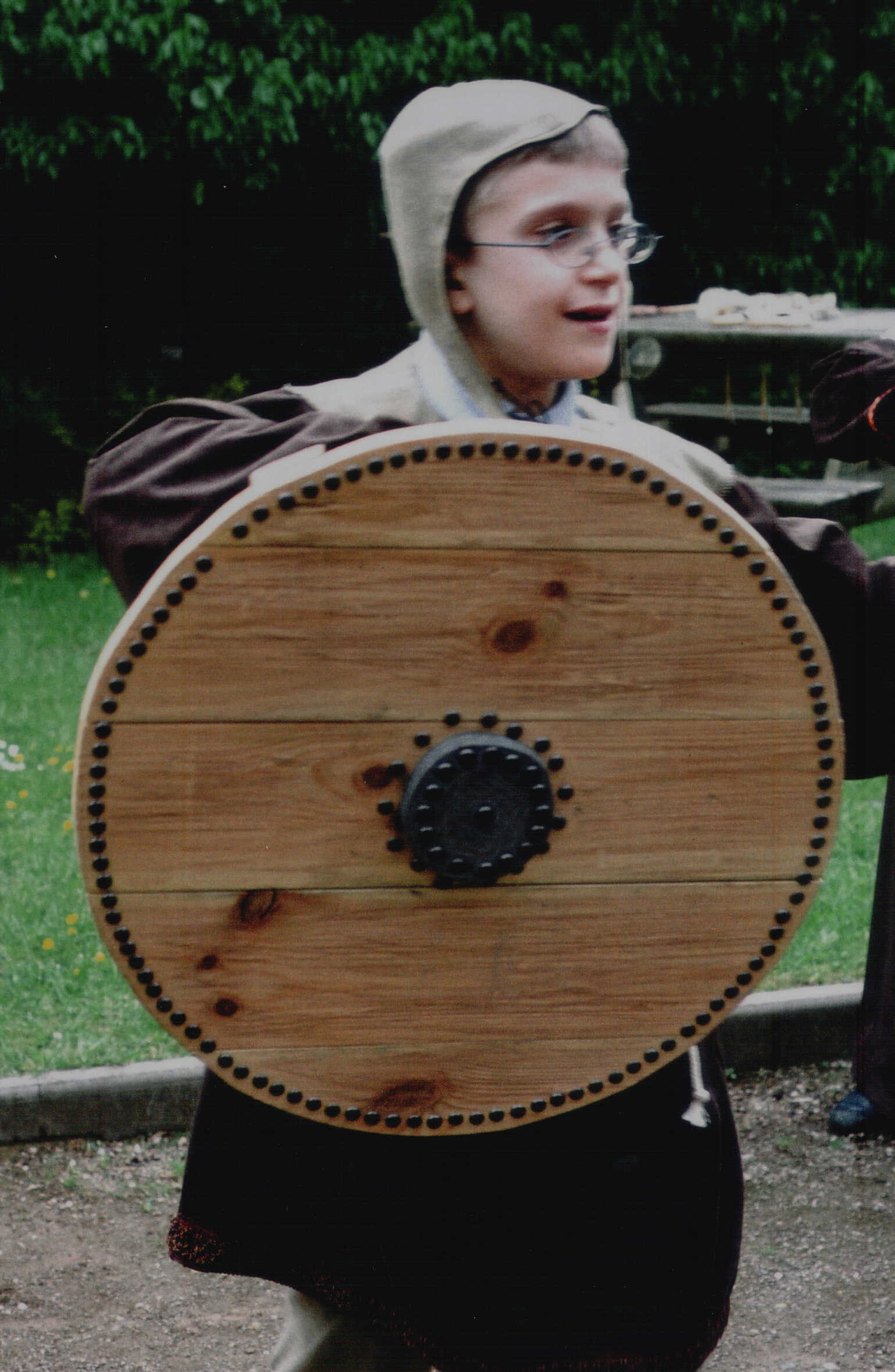 Angles, Saxons and Jutes
Dates: Monday 15th - Friday 19th May inclusive
Where did these tribal people come from and why did they invade Britain? How did they get here and what were their settlements like? What kind of homes, clothes and weapons did they have? How did they live and work?
In this themed programme some of the features of the Anglo Saxon way of life are re-created in exciting hands-on activites including:
Creating your own coil pot the Anglo Saxon way
A model making session to produce your own boat prow dragon figurehead
Finding out how a drop spindle was used to spin yarn and how decorative braids were woven
PLUS! Dressing the Anglo Saxon way and looking at....
Fascinating runic letter symbols and the words you can create
The fighting weapons of warriors
A scaled construction of a timbered family hut and an Anglo Saxon plough
Examples of the natural dyes used to colour their fabric
Some of the herbs for cooking and healing and horn cups for drinking
All days: 10.00am - 12noon or 12.30pm - 2.30pm
COST: £3.50 per child
SUGGESTED MAXIMUM NO. 40
____________________________________________________
Roman Remains
A Living History activity presented by Hands on History
Tuesday 4th, Wednesday 5th and Thursday 6th April
How did the Roman invasion change Britain? What were these people like and what legacy did they leave behind?
In this exciting new programme presented by a costumed interpreter, the Roman way of life will be re-created in a series of hands-on workshops including:
The appearance and military life of a Roman Legionary
Roman buildings, towns and cities
Family life including their lighting, food and games
All these and much more!
All days: 10.00 - 12.00 or 12.30 - 2.30
COST: £40.00 half day, £80.00 whole day
plus £1.00 booking fee per child
SUGGESTED MAXIMUM 40
____________________________________________________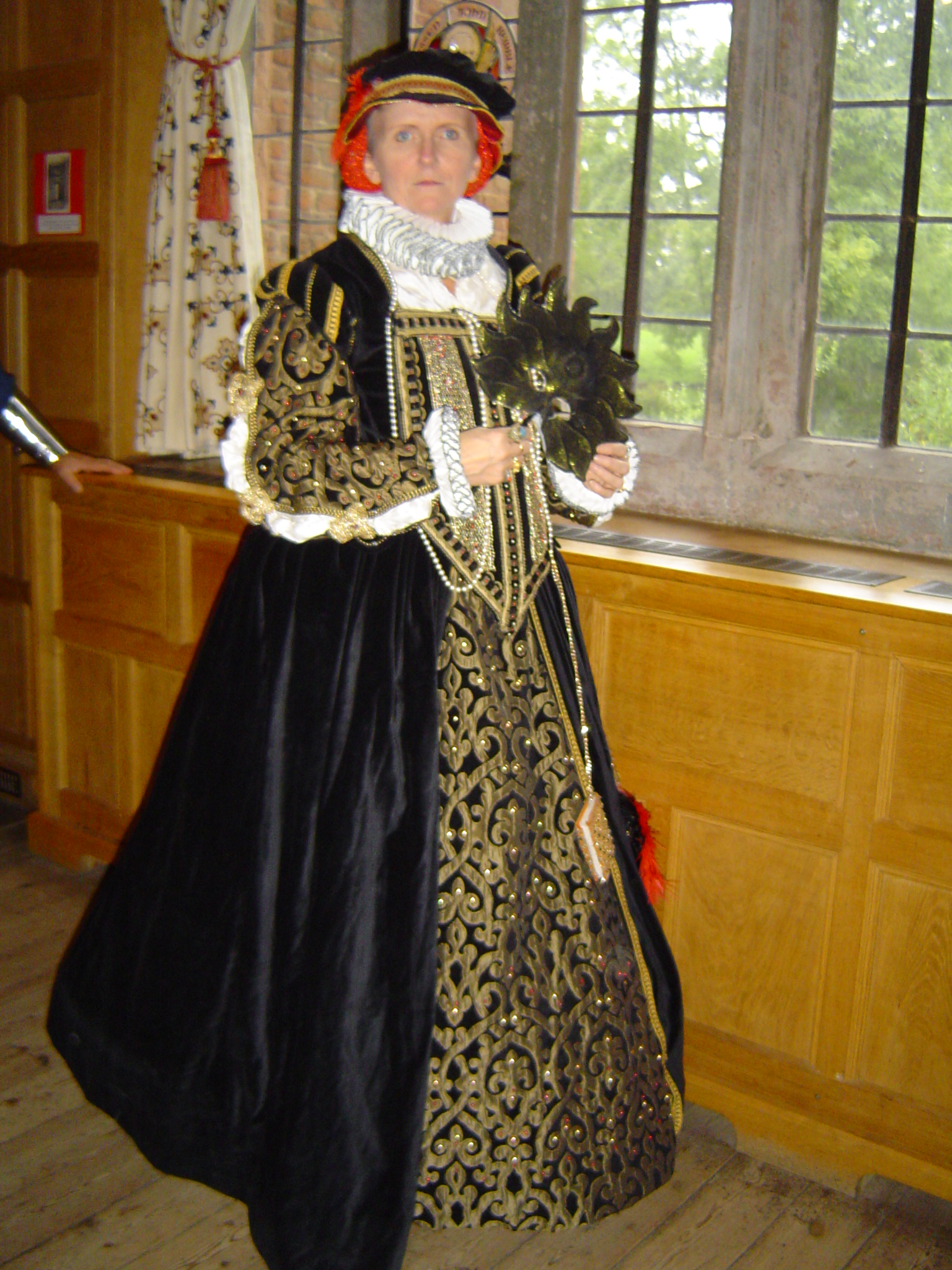 Tudor Living History
Presented by Gloriana
Tuesday 2nd, Wednesday 3rd and Friday 5th May
Monday 11th, Tuesday 12th and Wednesday 13th September
An exciting presentation of the Tudor lives of both nobility and village folk, offered in separate hands on activity sessions. Costumed interpreters bring the sights, sounds and smells of this fascinating period in England's history vividly to life.
Dance - Elizabethan Style
Find out in this colourful musical session how Tudor people listened and danced to music
Recipes and Remedies - the Secrets of the Tudor Kitchen
Explore with Cedric the physician the dual functions of a kitchen in Tudor times in both preparing food as well as potions and remedies to cure all ills.
Military Manoeuvres - the Tudor Soldier's Life
Captain Harvey will present the development of weapons, military uniforms and equipment in this period and also train your recruits in pike practice!
Books and Quills
A unique chance to see original Tudor books and manuscripts as well as learning to use a quill to produce some special sample pages of Tudor script.
All days: 10.00 - 12.00 or 12.30 - 2.30
COST: £125.00 for a half day, £240.00 for a full day
Plus £1 booking fee per child
MAXIMUM NUMBER 40
MINIMUM NUMBER 25
____________________________________________________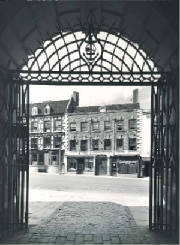 Linking with the Severn Valley Railway
River and Rail
and
Town Trail - Bewdley
a practical look at building styles and developments.
These two exciting programmes offer a unique combination of travel on a heritage steam train with follow up activities at the museum.
In each case the day will start with your pupil's arrival at the Severn Valley Railway station in Bewdley where they will be met by a member of the SVR teaching staff. Following a short walk from the station and their arrival at the museum, your pupil's day will run as follows:
River and Rail
Tuesday 6th - Thursday 8th June
A short introductory AV session using archive images to show the history and construction of coracles followed by a chance to compare the unusual shapes of several different types of full sized coracles and...
.... an ingenious hands-on session of coracle making with a daring "sink or swim" launch!
Town Trail - Bewdley
Tuesday 13th - Friday 16th June
A short introductory AV presentation on Bewdley's architectural history followed by...
...A hands-on demonstration of traditional building techniques including hand thrown bricks and different brick bonds, wattle and daub, carpenter's marks and pegged timber joints as well as the chance to investigate and handle related building artefacts. After lunch there will be an accompanied town trail.
Both sessions will then end with a return train journey to Kidderminster.
COST: £6.70 per pupil
PLEASE NOTE: Bookings for this activity will be co-ordinated by the Severn Valley Railway Schools Education Service and not Bewdley Museum. Please contact them on 01299 403816.
SUGGESTED MAXIMUM NO 40
____________________________________________________
Blitz and Evacuation
A new version of this popular programme presented by "Hands on History", linking once again with the Severn Valley Railway.
In response to numerous requests, the museum once again offers this unique insight into the evacuation experiences of children and their families during World War II.
Tuesdays and Thursdays in June and July
Your day will:
Start at the museum with our costumed interpreter who, through role play and artefact handling sessions, will introduce your group to the Blitz and life on the Home Front during these traumatic times, followed by...
Short walk to Bewdley station will lead to a real life "evacuation" up the railway line to Arley on the banks of the River Severn.
Following lunch your evacuees will continue their experience by learning not only about rationing and food shortages but also about the sort of games played by wartime children. New lunchtime and classroom accomodation will be available at Arley station in case of wet weather.
The programme ends with either the short train journey back to Bewdley or a longer trip to Kidderminster to meet your relocated coach.
If possible the real evacuation image can be re-created if the children are appropriately dressed for the period. Replica gas masks, identity labels and cards will be provided prior to your visit for the children to assemble and bring with them.
COST: approximately £8.50 per pupil depending on group size. For the SVR, one adult travels free per 10 paying pupils, additional adults at child rate.
SUGGESTED MAXIMUM NO 40
____________________________________________________
Grandma's Attic
Dates: Tuesday 7th, Wednesday 8th and Thursday 9th June, Tuesday 19th and Wednesday 20th September
How did our great, great, great Grandmother's live in Victorian and Edwardian times? How did they wash or iron their clothes? What did they cook with and how did they clean their rooms? What materials were all these things made from and how did they develop and improve?
The programme includes opportunities for:
observation and examination of many original 19th and 20th Century household artefacts from our collection
a vocabulary game to describe and sort the objects
PLUS! Hands-on opportunities to:
Beat a carpet, use a tub and washing dolly and try ironing Great Grandmother's way!
All days: 10.30am - 12.00noon or 1.00pm - 2.30pm
COST: £3.50 per child
SUGGESTED MAXIMUM NO 40
____________________________________________________
Skip and Play
Dates: Tuesday 20th, Wednesday 21st and Thursday 22nd June
Using some of the original toys from our collection as well as more modern toys and replica favourites, children are encouraged in this activity to observe, identify and discuss the differences between old and new styles and the materials used.
The programme includes:
An observation and handling session with sketching if required
A simple vocabulary card exercise to encourage descriptive skills
Plus an exciting hands-on rope making activity to produce your school's own skipping rope!
All days: 10.30am - 12.00 or 1.00pm - 2.30pm
COST: £3.50 per child
____________________________________________________

Commonwealth or Country?
The English Civil Wars 1642 - 1651
A Living History activity presented by "Hands on History"
Dates: Monday 25th - Friday 29th September and Monday 16th - Friday 20th October
Another new programme featuring dramatic events and their impact on our country's history.
Presented by our costumed interpreter, this programme will set the scene for the causes of the conflict as well as the main historical events.
Through the use of replica weapons and artefacts, a detailed portrayal of military life will include how soldiers and their families coped with campaigns on the move. How different were the weapons for the infantry, the cavalry and the artillery? What food did they manage to eat and how much were they paid?
Hands-on activities will include dressing as soldiers to understand this complex period more fully.
All days: 10:00am - 12noon or 12:30pm - 2:30pm
COST: £40.00 for a half day, £80.00 for a full day
plus an additional £1 booking fee per child.
SUGGESTED MAXIMUM NO 40
____________________________________________________
Constructing Coracles
Dates: Tuesday 10th and Wednesday 11th October
Dating from pre-Roman times, these small odd shaped boats were used as one of the earliest forms of transport on the River Severn as well as on rivers in Wales.
This unique activity offers:
AV - an introductory AV session describing coracle and River Severn craft
a chance to compare different coracles
A hands on session of model coracle making with a daring "sink or swim" launch
All days: 10.00am - 12.00 or 12.30pm - 2.30pm
COST: £3.50 per child
MAXIMUM NO 40
____________________________________________________
Literary Lines
Dates: Tuesday 19th and Wednesday 20th September
A very welcome return visit from local children's author Peter Hayden of the "Stringy Simon" series. His unique workshop will help to develop the writing skills of your pupils in a lively and fun way whilst covering all aspects of writing structures and techniques.
Sessions may be preferably a full day or a half day's participation from: 10:00am - 12 noon and 12:30pm -2:30pm.
COST: £5.50 per child
SUGGESTED MAXIMUM NO 38
____________________________________________________